Genset model
Prime Power
Standby Power
Engine model
KW
KVA
KW
KVA
JTW-27GF
20
25
22
27
WP2.3D25E200
JTW-38GF
28
35
30
38
WP2.3D33E200
JTW-44GF
32
40
35
44
WP2.3D40E200
JTW-55GF
40
50
44
55
WP2.3D48E200
JTW-72GF
53
66
58
72
WP4.1D66E200
JTW-88GF
64
80
70
88
WP4.1D80E200
JTW-110GF
80
100
88
110
WP4.1D100E200
JTW-145GF
105
132
116
145
WP6D132E200
JTW-165GF
120
150
132
165
WP6D152E200
JTW-181GF
132
165
145
181
WP6D167E200
JTW-220GF
160
200
176
220
WP10D200E200
JTW-262GF
190
238
210
262
WP10D238E200
JTW-290GF
211
264
232
290
WP10D264E200
JTW-360GF
-
-
288
360
WP10D320E200
JTW-400GF
-
-
320
400
WP12D317E200
JTW-423GF
308
385
339
423
WP13D385E200
JTW-450GF
-
-
360
450
WP13D405E200
JTW-500GF
-
-
400
500
WP13D440E310
JTW-563GF
-
-
450
563
WP13D490E310


Founded in 1946, Weichai employs 100,000 people worldwide. Its operating income in 2021 exceed 300 billion yuan, ranking 77th among the top 500 Chinese enterprises, 23rd among China's top 500 manufacturing companies, and 1st among China's top 100 machinery enterprises.
Weichai is an international company operating across fields and industries. It has business segments such as power systems, commercial vehicles, agricultural equipment, construction machinery, smart logistics, and marine transportation equipment around the world. Its subsidiaries are located in Europe, North America, Asia and other regions. , the products are exported to more than 110 countries and regions. It owns Weichai Power (2338.HK; 000338.SZ), Weichai Heavy Machinery (000880.SZ), Yaxing Bus (600213.SH), German KION (KGX.F), Italian Ferretti (9638.HK) ) and other 8 listed companies and 10 stocks at home and abroad.

We can produce diesel generators according to your different requests. The optional configurations include: Based fuel tank, External fuel tank, ATS, Coolant heater, Oil heater, Pre-oil pump, Exhaust purifier, etc.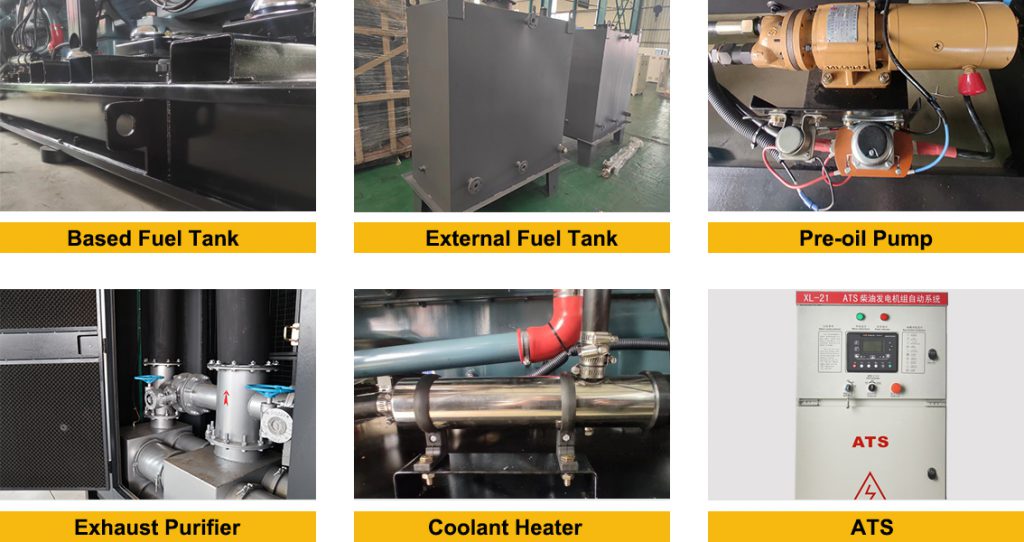 We produce brand new original Baudouin engine powered diesel generator sets, the output power capacity from 25 kVA to 4100 kVA.
◆ Alternator: Stamford, Leroy Somer, Mecc Alte, Marathon, Jinte.
◆ Controller: Deepsea, ComAp, Smartgen.
◆ Frequency: 50/60 Hz.
◆ Phase: Single/three phase, AC.
◆ Voltage: 110-380 V AC.
◆ MCB: ABB, Schneider, Aisikai.
◆ Type: Open type genset, Silent type genset, Containerized type genset, Trailer type genset.
◆ Options: ATS, Synchronization, Fuel tank, coolant heater, oil heater, etc.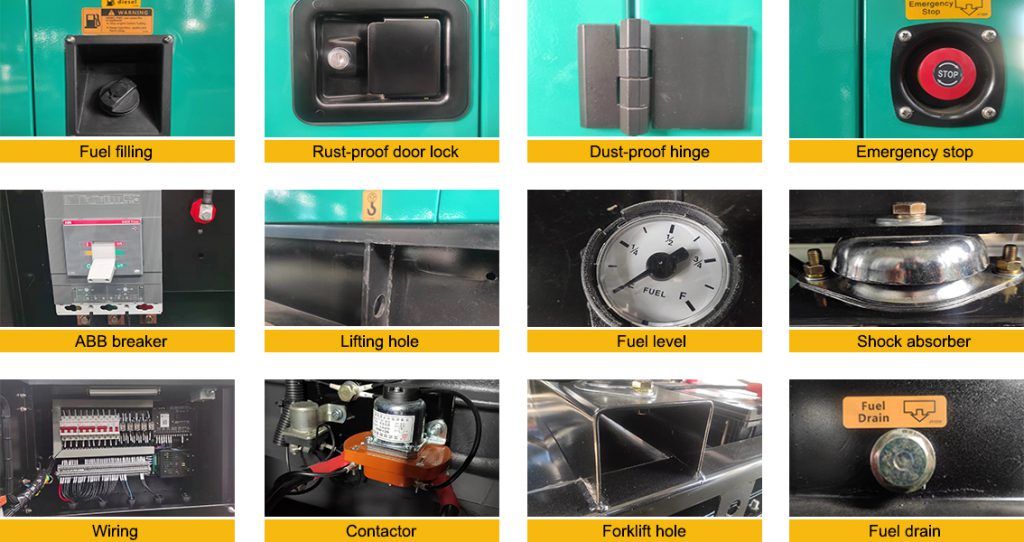 This Warranty Policy is for all series of Jinte Power diesel engine generators, gas engine generators and concerning devices used in Chinese domestic and overseas markets.
◆ As per international common practice, the standard warranty will end when any of the following conditions occurs: A). 12 months after delivery. B). 1500 running hours (accumulated).
◆ During the warranty period, if there is a malfunction raised by poor manufacturing workmanship or quality or defective materials, Jinte Power will provide FREE accessories, and spare parts for repairing and replacement. If necessary, Jinte Power will send engineers to the user's location to do repairing FREE OF CHARGE.
◆ If the malfunction is out of the scope of the warranty, the user should bear the charges of accessories, and spare parts for repair at the manufacturer's price. If necessary, Jinte Power will send engineers to the user's location and the user should bear all costs including Visa, round air ticket, room and boarding, an extra charge of USD 100~300 per man per day (subject to different served country or region).
◆ In order to judge whether the malfunction is caused by the user or by Jinte Power defective manufacturing quality, the user is prohibited from dissembling or attempting to repair the generator without prior consent from Jinte Power. Otherwise, the warranty will be NULL or VOID.
◆ During the lifespan of genset after the warranty period expires, Jinte Power is still supplying technical support, and damageable spare parts at the manufacturer's price.


1. Jinte is devoted to the R&D and manufacturing of diesel generator sets and gas generator sets since 2002.
2. Jinte new factory covers an area of 28,000 square meters.
3. Jinte generator set is submitted to ISO8528, GB/T2820-97 and CE certification, and quality certified by ISO9001 & ISO14001 Management System to guarantee high-quality products and services.
4. Jinte is maintaining long term strategic friendship cooperation with domestic and abroad famous manufacturers of Cummins, Perkins, Volvo, MTU, Doosan, Mitsubishi, Deutz, Leroy Somer, Stamford, Marathon, Deepsea, ComAp, and Smartgen, etc.
5. We have wide product ranges power capacity from 8kva to 4000kva for the diesel generator set; power capacity from 25kva to 1500kva for the gas generator set.
6. Soundproof/weatherproof type generator sets, container type generator sets; movable/vehicle type generator sets. Regarding the electrical control systems, it covers the Auto control panel, Synchronization panels, ATS, etc.
7. Jinte can also provide customized solutions due to customer requirements upon our standard product supply in order to meet the demand of the market. To focus on the global market, Jinte as an international brand, and constantly improving our quality level and maximising customer profitability is our unchangeable promise and eternal pursuit.