Genset model
Prime Power
Standby Power
Engine model
KW
KVA
KW
KVA
JTC-24GF
16
20
19
24
4B3.9-G11
JTC-27GF
20
25
22
27
4B3.9-G1
JTC-34GF
24
30
27
34
4B3.9-G12
JTC-44GF
32
40
35
44
4BT3.9-G1
JTC-55GF
40
50
44
55
4BTA3.9-G2
JTC-66GF
48
60
53
66
4BTA3.9-G2
JTC-70GF
48
60
56
70
QSB3.9-G2
JTC-86GF
61
76
69
86
4BTA3.9-G11
JTC-90GF
64
80
72
90
QSB3.9-G3
JTC-110GF
80
100
88
110
4BTA3.9-G13
JTC-110GF-B
80
100
88
110
6BT5.9-G1/2
JTC-110GF-Q
80
100
88
110
QSB5.9-G2
JTC-125GF
92
115
100
125
6BTA5.9-G2
JTC-140GF
100
125
112
140
QSB5.9-G3
JTC-150GF
108
135
116
150
6BTAA5.9-G2
JTC-165GF
120
150
132
165
QSB6.7-G3
JTC-170GF
124
155
136
170
6BTAA5.9-G12
JTC-200GF
145
181
160
200
6CTA8.3-G1/2
JTC-200GF
144
180
160
200
QSB6.7-G4
JTC-220GF
160
200
176
220
6CTAA8.3-G2
JTC-220GF-Q
160
200
176
220
QSL8.9-G2
JTC-250GF-Q
180
225
200
250
QSL8.9-G3
JTC-275GF
200
250
220
275
6LTAA8.9-G2
JTC-275GF-Q
200
250
220
275
QSL8.9-G4
JTC-305GF
220
275
244
305
NTA855-G1A
JTC-315GF
224
280
252
315
6LTAA9.5-G3
JTC-350GF
254
317
280
350
6LTAA9.5-G1
JTC-385GF
280
350
308
385
NTA855-G2A
JTC-415GF
300
375
332
415
NTAA855-G7
JTC-400GF
288
360
320
400
QSZ13-G6
JTC-440GF
320
400
352
440
QSNT-G3
JTC-450GF
320
400
360
450
QSZ13-G7
JTC-500GF-Q
380
475
400
500
QSZ13-G3
JTC-500GF
360
450
400
500
KTA19-G3
JTC-550GF-Q
400
500
440
550
QSZ13-G10
JTC-550GF
400
500
440
550
KTA19-G3A/G4
JTC-688GF
-
-
550
688
KTAA19-G6A
JTC-715GF-Q
520
650
572
715
QSK19-G4
JTC-825GF
600
750
660
825
KTA38-G2
JTC-880GF
640
800
704
880
KTA38-G2B
JTC-1000GF
728
910
800
1000
KTA38-G2A
JTC-1100GF
800
1000
880
1100
KTA38-G5
JTC-1250GF
-
-
1000
1250
KTA38-G9
JTC-1410GF
1020
1275
1128
1410
KTA50-G3
JTC-1675GF
1200
1500
1340
1675
KTA50-GS8/G8
JTC-1825GF-Q
1320
1650
1460
1825
QSK50-G7
JTC-550GF-Q
400
500
440
550
QSX15GB
JTC-880GF-Q
640
800
704
880
QSK23-G3
JTC-1100GF-Q
800
1000
880
1100
QST30-G4
JTC-2000GF-Q
1500
1875
1600
2000
QSK60G3
JTC-2250GF-Q
1636
2045
1800
2250
QSK60G4
JTC-2500GF-Q
1800
2000
2000
2500
QSK60G8
JTC-2750GF-Q
2000
2500
2200
2750
QSK60G23
JTC-3000GF-Q
2200
2750
2400
3000
QSK78-G9
JTC-3500GF-Q
2500
3125
2800
3500
QSK95-G5
JTC-3750GF-Q
2680
3350
3000
3750
QSK95-G4
Genset model
Prime Power
Standby Power
Engine model
KW
KVA
KW
KVA
JTC-28GF
20
25
22
28
4B3.9-G11
JTC-35GF
25
32
28
35
4B3.9-G2
JTC-38GF
28
35
30
38
4B3.9-G12
JTC-50GF
36
45
40
50
4BT3.9-G2
JTC-75GF
54
68
60
75
4BTA3.9-G2
JTC-85GF
62
78
68
85
4BTA3.9-G2
JTC-100GF
72
90
80
100
4BTA3.9-G11
JTC-125GF
90
113
100
125
6BT5.9-G2
JTC-138GF
100
125
110
138
6BT5.9-G2
JTC-145GF
104
130
116
145
6BTA5.9-G2
JTC-165GF
120
150
132
165
6BTAA5.9-G2
JTC-185GF
134
168
147
185
6BTAA5.9-G12
JTC-220GF
160
200
176
220
6CTA8.3-G2
JTC-250GF
184
230
200
250
6CTAA8.3-G2
JTC-300GF
208
273
228
300
6LTAA8.9-G2
JTC-315GF
226
283
252
315
6LTAA8.9-G3
JTC-330GF
240
300
264
330
6LTAA9.5-G3
JTC-350GF
252
315
280
350
6LTAA9.5-G1
JTC-425GF
310
388
340
425
6ZTAA13-G3
JTC-425GF-Q
310
388
340
425
QSZ13-G6
JTC-475GF
350
438
380
475
6ZTAA13-G2
JTC-475GF-G
350
438
380
475
6ZTAA13-G4
JTC-469GF-Q
350
438
375
469
QSZ13-G2
JTC-488GF
360
450
390
488
QSZ13-G7
JTC-525GF
380
475
420
525
QSZ13-G5
JTC-345GF
250
315
275
345
NTA855-G1
JTC-380GF-B
275
345
300
380
NTA855-G1B
JTC-380GF
275
345
300
380
NTA855-G2
JTC-440GF
315
400
350
440
NTA855-G3
JTC-500GF
350
450
400
500
KTA19-G2
JTC-565GF
410
515
450
565
KTA19-G3
JTC-625GF-A
450
565
500
625
KTA19-G3A
JTC-625GF
450
565
500
625
KTA19-G4
JTC-688GF
470
590
550
688
KTAA19-G5
JTC-715GF
500
625
570
715
QSK19-G4
JTC-750GF
-
-
600
750
KTAA19-G6A
JTC-750GF
550
690
600
750
QSK19-G5
JTC-850GF
620
775
680
850
KT38-G
JTC-965GF
700
875
770
965
KTA38-G1
JTC-1000GF
725
910
800
1000
KTA38-G2
JTC-1038GF
750
940
830
1038
KTA38-G2B
JTC-1125GF
800
1000
900
1125
KTA38-G2A
JTC-1250GF
900
1125
1000
1250
KTA38-G4
JTC-1375GF
-
-
1100
1375
KTA38-G9
JTC-1600GF
1128
1410
1280
1600
KTA50-G3
JTC-1930GF
1288
1610
1544
1930
KTA50-G9
JTC-2000GF
1456
1820
1600
2000
QSK50-G6
JTC-2125GF
1550
1937
1700
2125
QSK60-G5
JTC-2500GF
1825
2281
2000
2500
QSK60-G7
JTC-3125GF
2336
2920
2500
3125
QSK78-G8
JTC-4375GF
3000
3750
3500
4375
QSK95-G2
JTC-2500GF-Q
1800
2000
2000
2500
QSK60G8
JTC-2750GF-Q
2000
2500
2200
2750
QSK60G23
JTC-3000GF-Q
2200
2750
2400
3000
QSK78-G9
JTC-3500GF-Q
2500
3125
2800
3500
QSK95-G5
JTC-3750GF-Q
2680
3350
3000
3750
QSK95-G4


Cummins Corporation (NYSE: CMI) was founded in 1919 as the pioneer of diesel-engine vehicles and is headquartered in Columbus, Indiana, USA. Cummins is the world's leading power equipment manufacturer, designing, manufacturing and distributing engines and related technologies including fuel systems, control systems, air intake treatment, filtration systems, exhaust gas treatment systems and power systems, and providing corresponding after-sales services. Headquartered in Columbus, Indiana, Cummins serves customers through its 550 distribution offices and more than 5,000 dealer locations in more than 160 countries and regions around the world.

We can produce diesel generators according to your different requests. The optional configurations include: Based fuel tank, External fuel tank, ATS, Coolant heater, Oil heater, Pre-oil pump, Exhaust purifier, etc.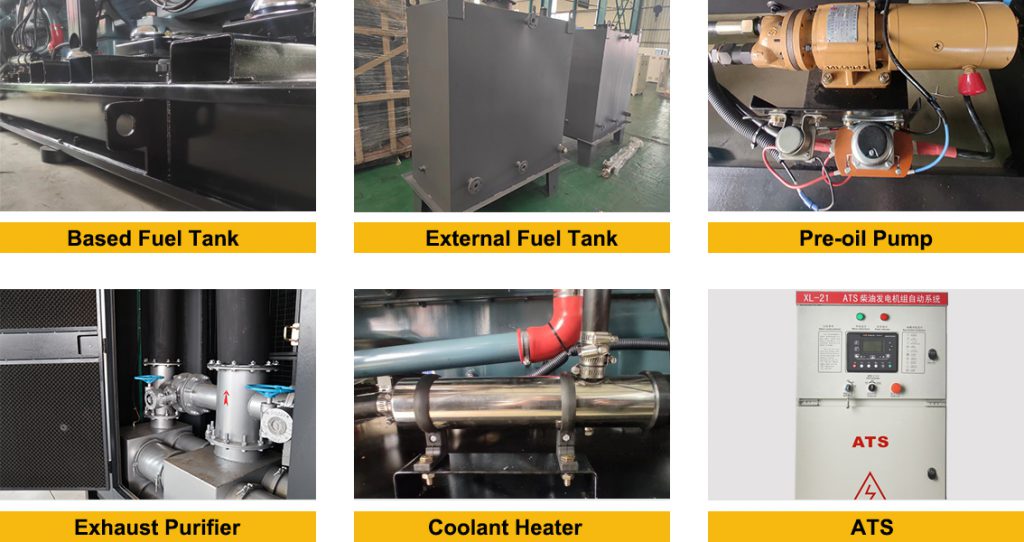 We produce brand new original Baudouin engine powered diesel generator sets, the output power capacity from 25 kVA to 4100 kVA.
◆ Alternator: Stamford, Leroy Somer, Mecc Alte, Marathon, Jinte.
◆ Controller: Deepsea, ComAp, Smartgen.
◆ Frequency: 50/60 Hz.
◆ Phase: Single/three phase, AC.
◆ Voltage: 110-380 V AC.
◆ MCB: ABB, Schneider, Aisikai.
◆ Type: Open type genset, Silent type genset, Containerized type genset, Trailer type genset.
◆ Options: ATS, Synchronization, Fuel tank, coolant heater, oil heater, etc.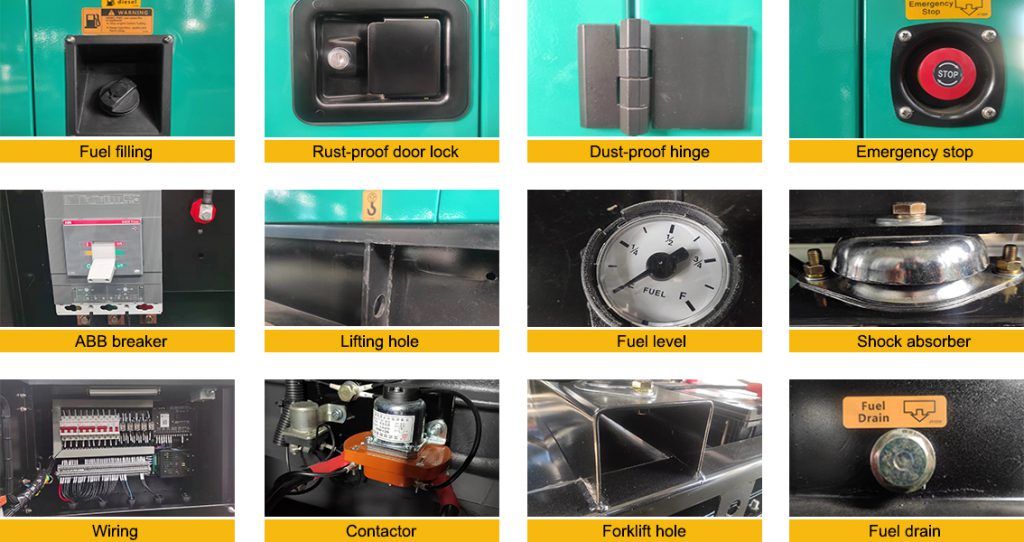 This Warranty Policy is for all series of Jinte Power diesel engine generators, gas engine generators and concerning devices used in Chinese domestic and overseas markets.
◆ As per international common practice, the standard warranty will end when any of the following conditions occurs: A). 12 months after delivery. B). 1500 running hours (accumulated).
◆ During the warranty period, if there is a malfunction raised by poor manufacturing workmanship or quality or defective materials, Jinte Power will provide FREE accessories, and spare parts for repairing and replacement. If necessary, Jinte Power will send engineers to the user's location to do repairing FREE OF CHARGE.
◆ If the malfunction is out of the scope of the warranty, the user should bear the charges of accessories, and spare parts for repair at the manufacturer's price. If necessary, Jinte Power will send engineers to the user's location and the user should bear all costs including Visa, round air ticket, room and boarding, an extra charge of USD 100~300 per man per day (subject to different served country or region).
◆ In order to judge whether the malfunction is caused by the user or by Jinte Power defective manufacturing quality, the user is prohibited from dissembling or attempting to repair the generator without prior consent from Jinte Power. Otherwise, the warranty will be NULL or VOID.
◆ During the lifespan of genset after the warranty period expires, Jinte Power is still supplying technical support, and damageable spare parts at the manufacturer's price.


1. Jinte is devoted to the R&D and manufacturing of diesel generator sets and gas generator sets since 2002.
2. Jinte new factory covers an area of 28,000 square meters.
3. Jinte generator set is submitted to ISO8528, GB/T2820-97 and CE certification, and quality certified by ISO9001 & ISO14001 Management System to guarantee high-quality products and services.
4. Jinte is maintaining long term strategic friendship cooperation with domestic and abroad famous manufacturers of Cummins, Perkins, Volvo, MTU, Doosan, Mitsubishi, Deutz, Leroy Somer, Stamford, Marathon, Deepsea, ComAp, and Smartgen, etc.
5. We have wide product ranges power capacity from 8kva to 4000kva for the diesel generator set; power capacity from 25kva to 1500kva for the gas generator set.
6. Soundproof/weatherproof type generator sets, container type generator sets; movable/vehicle type generator sets. Regarding the electrical control systems, it covers the Auto control panel, Synchronization panels, ATS, etc.
7. Jinte can also provide customized solutions due to customer requirements upon our standard product supply in order to meet the demand of the market. To focus on the global market, Jinte as an international brand, and constantly improving our quality level and maximising customer profitability is our unchangeable promise and eternal pursuit.