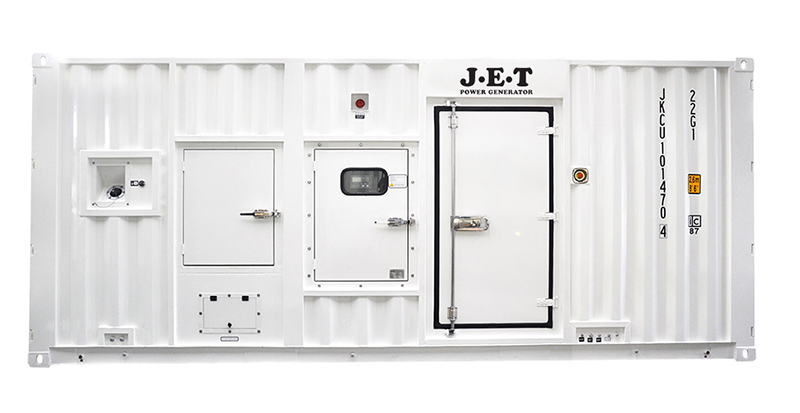 Introduction
Jinte containerized diesel generator has the standard type and soundproof type, manufactured and designed according to the International Standard size of the container, there are 20 GP containers and 40 GP containers for your selection. The frame can avoid damage of Gen Sets during the transportation as a result of the high-pressure load, possesses advantages as follows: novel figuration, compact structure, large volume, convenient for Gen Sets to transport; adopt the design of the high strength container and standard size, which save the freight cost for customers; there are high capability, durable aging, and anti-burning type soundproof material and the absorption material within the container of soundproof type; simultaneously the container design is more humanized, container has side doors in the two sides and fixed the overhaul light in it, which are convenient for operation and maintenance; have many distinct designs in control system panel, the style of output connection, fuel base and muffle etc., which are well appreciated by users.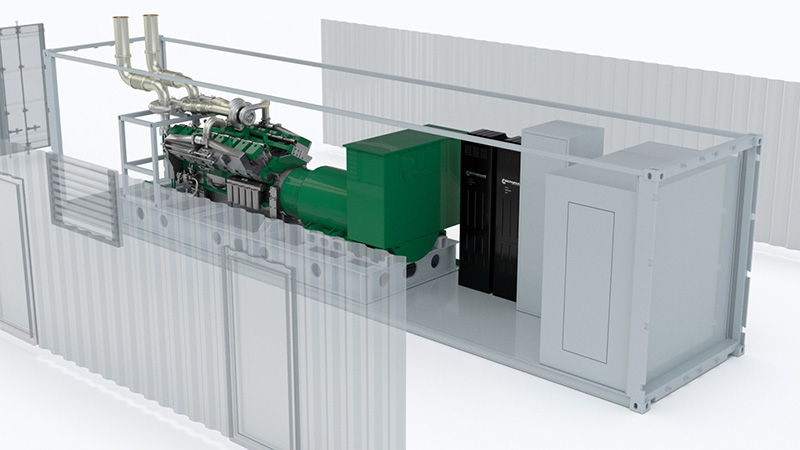 Technical performance
1. Select 40'GP or 20'GP container and high cube container according to gensets power.
2. Noise can be controlled below 85 dB(A).
3. According to the gensets power and application site to choose local radiator or remote radiator.
4. Electric air inlet and outlet blinds.
5. 30 micron air intake filter.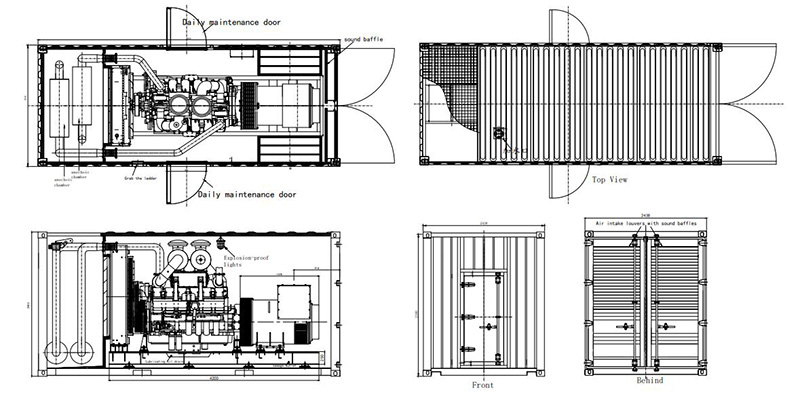 Customized solutions
1. Different sizes of containers can be selected according to user requirements.
2. The remote radiator can be selected according to the actual use requirements.
3. Optional manual or automatic blinds for air intake and exhaust vents.
4. Add fuel type heater according to ambient temperature.
Our advantages
1. Non-ISO or ISO certified containers are adopted. Container size: 20'GP or 40'GP (customizable).
2. Easy access for maintenance:
There are wide doors designed on each side for operators and engineers entering into for maintenance. Built-in lamps are available for lighting.
3. Extended power terminals.
4. Specially designed fuel tanks, silencer, sound-insulation material, and lube-oil out piping are all equipped.
5. A fuel tank pump is also available as an optional device.
6. The specially designed control system is equipped.